Case Study House 22 Julius Shulman Modernism
CSH#22 Stahl House, photograph by Julius Shulman © J. Paul Getty Trust

With the release of the film 'Visual Acoustics: The Modernism of Julius Shulman', Co-Producer Will Paice shares his insights into the Case Study Program and the genius of architectural photographer Julius Shulman, gained while researching and filming Modernist homes in the Californian desert.
Julius Shulman: An icon is born
The year is 1960. A photographer with a gift for being in the right place at the right time steadies his tripod in the hot tub beside an elegantly simple Modernist house perched 200 feet above the Hollywood Hills and arranges the edges of the overhanging roof in his viewfinder to mirror the lines of the streets below. He checks the composition of the two girls in cocktail dresses framed inside the house and squeezes the shutter release, triggering the strobe lights that illuminate the interior. The shutter stays open for seven minutes to expose the city lights below, and an icon is born. The house is the Stahl House, the photographer Julius Shulman: the resulting image has become perhaps the most evocative symbol of Los Angeles and the relaxed, Modernist lifestyle epitomised by the city.
Pierre Koenig and Case Study House #22
The house was the dream of ex-professional football player, 'Buck' Stahl, and his wife Carlotta, who bought the vacant lot for $13,500 (the price of a three bedroom house at the time) in 1954. The ruggedly vertiginous site proved challenging to say the least and in 1959 the Stahls employed Pierre Koenig, an ambitious 32-year-old architect, to enable them to realise their vision of a light, L-shaped Modernist house, a structure of steel and glass. Pierre Koenig's Stahl House was adopted into the Case Study Program (Case Study House #22) and was to become one of the iconic works of 20th century Modernist architecture. The original owners of the Stahl House remained in their Modernist home for the rest of their lives, with their children living out their childhood diving off the flat roof into the pool and roller skating along concrete floors that extend seamlessly from inside to out.
Eames, Neutra and the start of the Case Study Program
The Case Study Program was the brainchild of John Entenza, who had announced it in the January 1945 edition of Arts and Architecture magazine. Entenza's goal was to encourage architects to design and build low cost modern houses for real clients, using industrial materials donated by manufacturers. A key element of the programme was to publish and publicise their efforts, an objective in which Julius Shulman and his camera would be instrumental. The Case Study Program aspired to create experimental prototypes of Modernist houses to be picked up by developers in anticipation of a building boom following the Great Depression and World War II. The Case Study Houses were characterised by flat roofs, glass walls, modular design and steel frame construction. They were modest in size (by today's standards) and neatly integrated into the sites with an emphasis on indoor-outdoor living. It was hoped that the designs would help boost living standards for low-income families, but the solutions were often costly and unpopular; abundant use of glass, for instance, being impractical in suburbs where houses were built in close proximity to neighbours and roads. As Julius Shulman recollected in an interview in 1990, "I listened to people coming through the houses, saying 'I don't want to live in a goldfish bowl'." During the life of the Case Study Program, 36 designs were accepted, 26 of which were built, almost all in L.A. The best-known Case Study Houses were designed by Charles and Ray Eames (CSH#8, more commonly known as the Eames House), Pierre Koenig (CSH#21 and 22), Craig Ellwood (CSH#17B, 18B and 1953), Richard Neutra (CSH#20A), and Raphael Soriano (CSH#1950). They reflect the spirit of International Style Modernism originating in Europe, expressed in response to the unique landscape, climate and culture of California.
The photographic genius of Julius Shulman
Julius Shulman was already an established architectural photographer when he first photographed a Case Study House (CSH#3, designed by William Wurster and Theodore Bernardi) for the March 1949 edition of Arts and Architecture magazine. He went on to photograph 18 of them altogether, making a critical contribution to the enduring reputation of the Case Study Program and Modernist architecture in general. Julius Shulman possessed abundant energy and enthusiasm for his work, and developed a unique style of carefully composed and artfully lit house-portraits, which quickly established him as the pre-eminent architectural photographer on the West Coast. His photographs reflect his own optimism and love of nature, epitomising the idyllic sunny, suburban California lifestyle. Julius Shulman's compositions, using simple, single point perspective and exquisitely balanced lighting, demonstrate a profound understanding of the built environment and the relationship between structure, light and shade. He recognised that architecture is for people, and broke from the traditions of his contemporaries by populating his photographs, often with the house's owners and their friends and family. Julius Shulman saw the significance of context, frequently arranging branches cut from nearby trees to give the impression that the yard had been landscaped, even if it was still a building site. He would also turn up to photograph a newly-constructed house with his car loaded with props and furniture (often from his own house), which he would arrange to make the residence appear lived-in and homely. This often exasperated the architects who wished to present a more contrived, minimal interior.
The demise of the Case Study House
The Case Study Program ended in 1966 when Arts and Architecture magazine ceased publication. The tastes of architects and clients moved on to incorporate the more fanciful elements of Postmodern design and much Modernist architecture from this period was remodelled or simply torn down. Even when protection seemed assured by preservation orders enforced by local city councils, fine examples continue to be lost: Richard Neutra's Maslon House at The Tamarisk Country Club near Palm Springs, photographed by Julius Shulman in 1963, was demolished as recently as April 2002. Yet remarkably, 18 Case Study Houses are still standing and recognisable. Much of the credit for ensuring that these Modernist houses survived the whims of fashion can be attributed to Julius Shulman's iconic images, which have consistently inspired generations of architects, designers, filmmakers and those who aspire to the golden age of 'California Living'. His photographs are just as fresh today as they were 50 years ago and they retain the power to excite and promote preservation. Despite Entenza's aspiration for the Case Study Program, only one house design was ever replicated. It is ironic then, that Julius Shulman's images have become the most reproduced architectural photographs of the 20th century. To the end of his life, Julius Shulman remained Modernism's most eloquent ambassador.
Getty and the Julius Shulman photograph archive
In 2005, The Getty Research Institute acquired Julius Shulman's archive of some 260,000 prints, negatives and transparencies, to be preserved and catalogued for future generations. In October of that year, the Getty mounted the exhibition 'Julius Shulman: Modernity and the Metropolis' to coincide with his 95th birthday celebrations. Even then, Julius Shulman used the occasion to campaign for the preservation of the city. During an interview with Wim De Wit, Head of Architecture and Contemporary Art at the Getty Research Institute, Julius Shulman talked of how the city that he had known as a younger man had become an ugly sprawl. He turned his head to view a slide of a smoggy tangle of houses and highways. "How would you like to live in that pile of junk?" he asked.
Useful links and information
Click here to buy or download Visual Acoustics: The Modernism of Julius Shulman, or check out this trailer For more on the making of Visual Acoustics read our interview with Will Paice, and there's a full article on the Case Study Program in MidCentury issue 04
Category: Architecture, Interviews
Stahl, Koenig + Shulman – A History of Case Study House No. 22
Posted on February 12, 2014
My favorite week of the year… Modernism Week in Palm Springs! Not familiar with Modernism Week? Here is a brief description taken directly from the organizers:
The mission of Modernism Week is to celebrate and foster appreciation of mid-century architecture and design, as well as contemporary thinking in these fields, by encouraging education, preservation and sustainable modern living as represented in Palm Springs.
Modernism Week's signature February Event is an annual celebration of mid-century modern design, architecture, art, fashion, and culture. This exciting "festival" takes place in February in the Palm Springs area of Southern California. It features more than 100 events including the Modernism Show, home tours, films, lectures, double decker bus tours, parties, walking and bike tours, a pre-fab showcase, vintage fashion, live music events, a vintage travel trailer exhibition, and more.
So in recognition of all things mid-century modern, I want to highlight one of the greatest pieces of architecture that came about during this era; theStahl House, or better known as Case Study House No. 22. CH "Buck" Stahl and his wife, Carlotta, bought the land the house sits on back in 1954 for about $13,500. As a graphic designer and sign painter, Stahl created a model based on a few ideas of his own. In 1957 Stahl met an up-and-coming young architect named Pierre Koenig. Koenig was known for designing a number of steel and glass houses. At the time, Koenig had worked with John Entenza of Arts & Architecture Magazine to design Case Study House No. 21. So when Koenig proposed Stahl's project to Entenza as the next project, Stahl's dream home became part of the Case Study Program and from that moment forward, the project was known as Case House Study No. 22.
In just a little over a year, Stahl's vision and Koenig's design transformed the Woods Drive lot in Hollywood into a 2,200 sq. ft. masterpiece with 2 bedrooms, 2 baths and swimming pool with a remarkable view of Los Angeles. The end result was unlike any other architectural design at that time.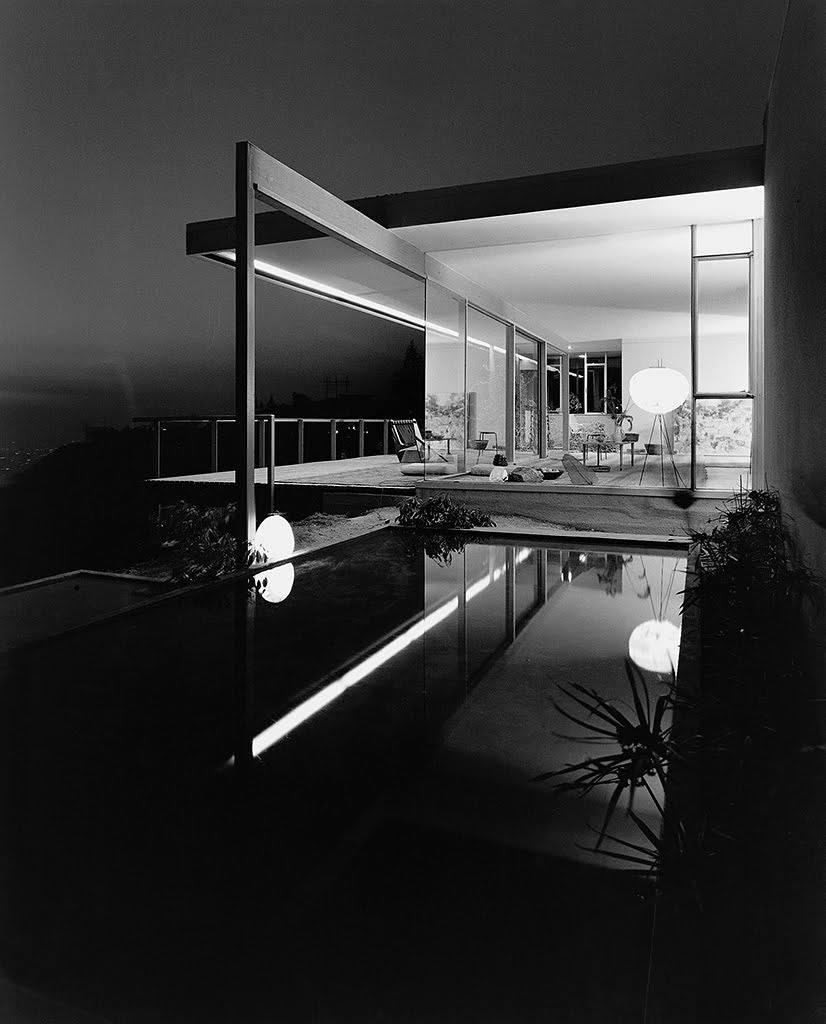 The Stahl House received high praise and attention for its amazing design, but it took photographer Julius Shulman to capture this iconic house with his lens. Shulman was known for photographing some of the era's best known architects, including Richard Neurta and Frank Lloyd Wright to name a few. Today, the Stahl House is considered one of the most iconic pieces of architecture in Los Angeles.
Interested in learning more about the history of Case Study House No. 22? Take a weekend trip to Palm Springs for Modernism Week. The Palm Springs film premier of "Nobody Famous Ever Lived Here" will screen on Saturday, February 15, 2014 as part of the Modernism Week festivities. For more information and to purchase tickets for the film, visit Modernism Week.